Personalize Your


AHH Bean Bag Chairs




& Fleece Blanket

s
Ahh...That bean bag is just for me!
*Click here for bean bags already personalized - get the name for free!

Make your Ahh! bean bag (or blanket) even more unique by personalizing it!

While you're customizing your bean bag chair during the ordering process, you can also choose to add a personalization. This option allows you to pick the lettering type, thread color, and either a name/saying or initials.

We use very high quality, very strong embroidery thread that makes the personalization stand out beautifully. Our combinations of lettering styles and colors are unique and can't be found anywhere else!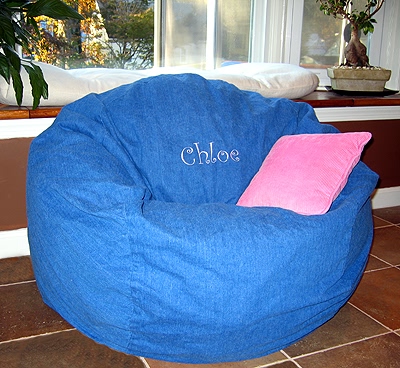 37" wide blue denim with name "Chloe" in white, Curly lettering.
We ask for up to 5 extra weekdays to personalize (it can take less than 5). It then normally takes 1-5 business weekdays after we shp to get to your door via FedEx ground service (barring unexpected FedEx or weather delays).
Personalized items cannot be returned or exchanged, but are covered by our 10 year warranty! Please note that the bean bag is covered for 10 years, but the personalization itself is covered for 1 year. Of course it can and probably will last well over 1 year, but sometimes threads are picked at or snagged by accident - that's just the nature of embroidery. You will find that our embroidery lasts much longer than other companies because we use a very tight basketweave stitch.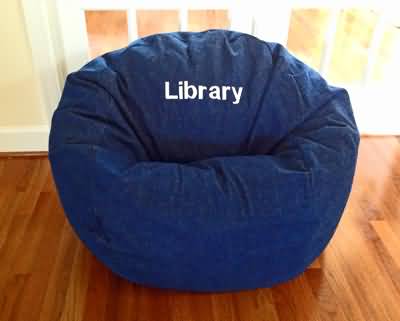 37" wide dark blue denim with "Library" in white, Block lettering.
Here are some ideas of personalizations that would make your bean bag uniquely yours...
First name
Family/Last name
Nickname
Team name
Pet name
Mom/ Mommy/ Mom's
Dad/ Daddy/ Dad's

Dream
Relax
Smile
Be happy
Sit here
Enjoy
Play
Read
Love
Have fun
Nap time
"It's beautiful!" -A.S.
"I just wanted to tell you my grandson's bean bag chair arrived yesterday and the little kid just loves it. My daughter said it is the nicest one she has ever seen and the embroidered name was really well done. I've asked her to forward a picture on to you. Thank you so much. It's a great Christmas present. Regards from Maine." -P.R.
Christmas Ordering
We suggest that you order personalized bean bag chairs as early as possible. Check our holiday shipping schedule to see when you should order personalizations by.
Make sure you choose a thread color that will show up!
Call us for help toll-free 888-244-6818.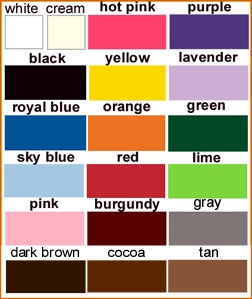 For names and other text, these lettering fonts are available.
Up to 9 letters or spaces. The first letter of first word is capitalized, 2 inches tall. All following letters are shorter lowercase.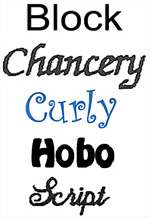 For initials, these lettering fonts are available.
1 or 2 large uppercase initials. CAPITALIZED letters are 3 inches tall.

Note: Letter size for "Lil Me" doll-size bean bags will be smaller to fit on the mini chair.
SAVE! We personalized these bean bags by mistake.
There's nothing wrong with them at all. We just duplicated orders accidentally. Call us to order these bean bags and save the $20 personalization charge plus some are even on sale!
Call now! 1-888-244-6818
Bean Bag

Chair *Note Size & Style

Lettering Type

Thread Color

Name

Price




(includes free name on cover, liner, regular filling, free Shipping)

37" wide
Navy Blue Organic Cotton Twill

Hobo

Sky Blue

Tyler

$170 (regular $190)

37" wide
Cuddle Soft Brown

Block

Tan

Tyler

$195 (regular $245)

37" wide
Marina Stripes

Hobo

Hot Pink

Cora

$195 (regular $245)

37" wide
Navy Blue Velvet

Hobo

Orange

Samantha

$195 (regular $245)

32" wide
Dark Blue Denim

Hobo

White

Rudy

$140 (regular $160)

32" wide
Dark Blue Denim

Hobo

Red

Hunter

$140 (regular $160)

32" wide
Dark Blue Denim

Hobo

Yellow

Mason

$140 (regular $160)

32" wide
Dark Blue Denim

Curly

White

Maggie

$140 (regular $160)

27" wide
Bubbly Citrus Cotton

Curly

White

Gianna

$135 (regular $155)

37" wide
Dark Blue Denim


Chancery

Red

Noah

$150 (regular $170)

37" wide
Dark Blue Denim

Hobo

Red

Eli

$150 (regular $170)